Meet Douglas McCay,
The Charismatic Conjurer
Forget there was yesterday
Forget that tomorrow will come
Forget there are laws of gravity
On this magical journey
There will be moments of surprise
There will be secrets never to be revealed
Come, open your heart and wonder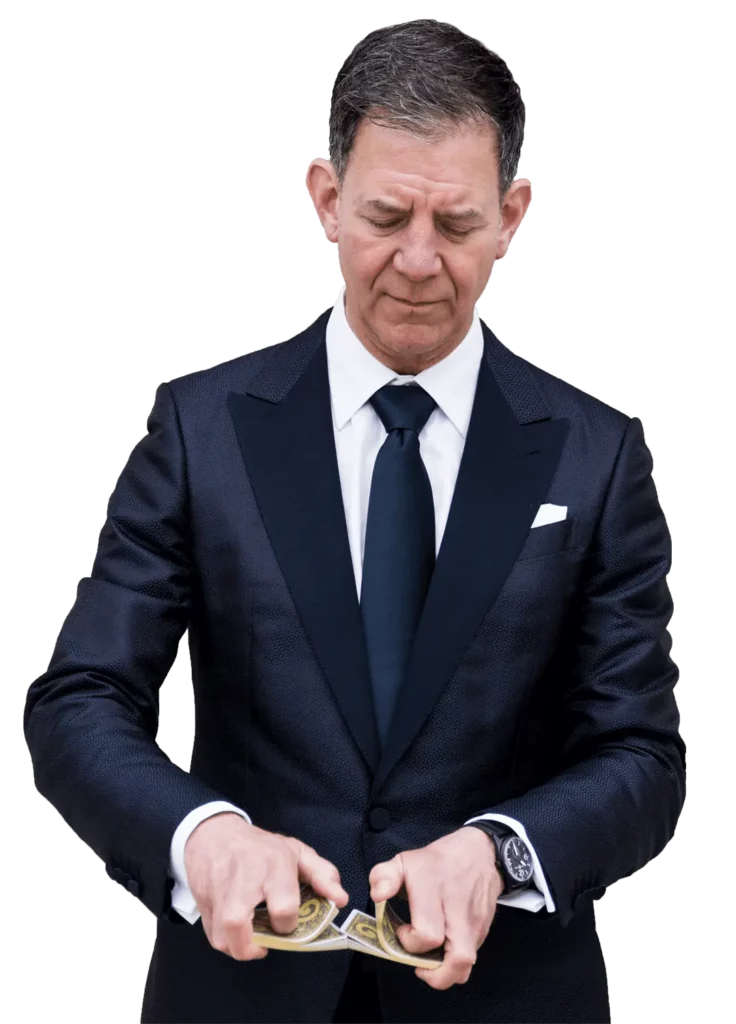 Magic Experiences
The very air is abuzz with the sounds of astonishment as the Charismatic Conjuror performs his art. From the smallest gathering of friends to the largest of audiences, his magic is sure to amaze and astound.
The Charismatic Conjuror's magic is more than just a parlor trick. It is a performance art of universal appeal. It speaks to the child in all of us, and it reminds us of the power of imagination.
If you are looking for an evening of wonder and amazement, then look no further than the Charismatic Conjuror.
The Mystery Guest: Enigmatic Magic and Captivating Stories
Amidst the social hour's whispers, a charismatic and enigmatic gentleman emerges—The Mystery Guest. Transport your guests into a realm of enchantment as Douglas brings his intimate close-up magic directly to them. Each interaction becomes a captivating and magical experience, etched into their memories forever.
As a masterful storyteller, The Mystery Guest weaves tales that transcend imagination, painting vivid pictures in the minds of your guests. Laughter and astonishment fill the air as he deftly wields his powers, delighting and intriguing every individual he encounters. Gift your guests an evening that blends charisma, entertainment, and magic, leaving them spellbound by an unforgettable encounter with the enigmatic.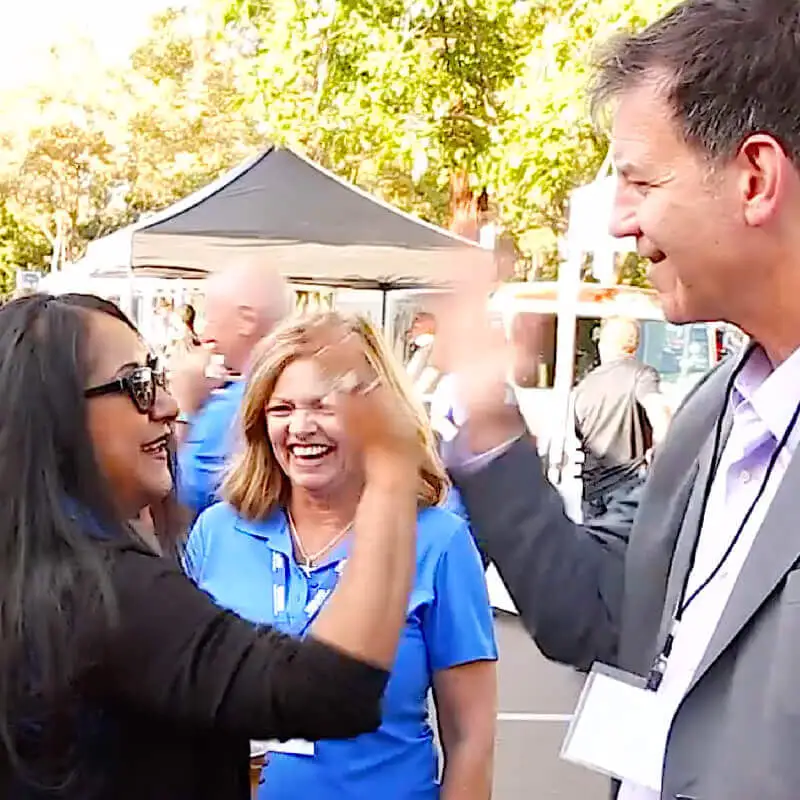 The Wine & Magic Experience: An Indulgence of Fine Wine and Sophisticated Magic
Immerse yourself and your guests in an exquisite fusion of refined wine and captivating magic. Join Douglas on a guided tour through three bespoke wines, perfectly paired with a spellbinding performance of close-up magic guaranteed to transcend the ordinary.
The Wine & Magic Experience is a symphony of sophistication, where the artistry of wine blends seamlessly with the allure of magic. Allow Douglas to curate an evening of enchantment, where every sip and trick combine to create a truly unforgettable moment.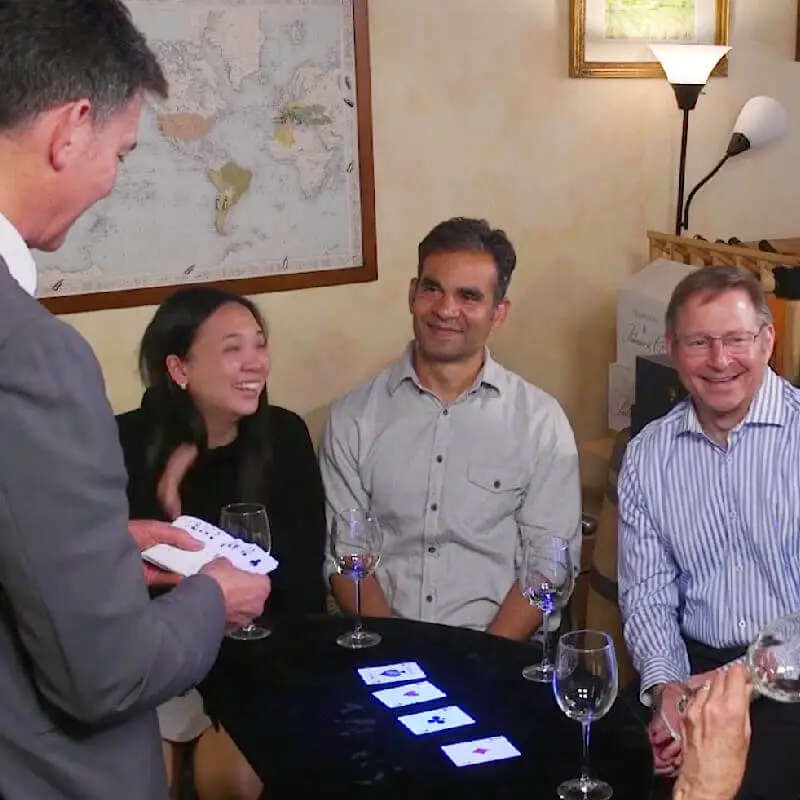 An Hour of Deception: A Captivating Salon of Enchanting Magic
Step into a bygone era as our charismatic conjuror presents "An Hour of Deception," a mesmerizing parlor magic show reminiscent of the enchantment that once filled the salons of 1870s Vienna. Prepare to be transported to a world where elegance and mystique intertwine.
With an intimate audience of 20 to 50 captivated souls, our enigmatic performer weaves a tapestry of classical magic and tales of enchantment, captivating every imagination in the room. Each trick unfolds like a carefully crafted masterpiece, leaving guests spellbound and in awe.
"An Hour of Deception" is a delightful sojourn into a bygone era, where you will immersed in the elegant mystique of Vienna's golden age, and let our mesmerizing salon of magic cast its irresistible spell upon you.
The Cabaret Act: A Magical Journey for 50 to 2,000
Experience an enchanting journey of magic and wonder with Douglas in "The Cabaret Act." From intimate gatherings to grand audiences of 50 to 2,000, he captivates with a spellbinding performance that leaves everyone in awe. Prepare to be transported to a realm where impossibilities become reality.
With each trick, Douglas weaves a captivating tapestry, leaving hearts and minds spellbound. Embrace the allure of "The Cabaret Act" as he ignites imaginations, dazzling guests with his extraordinary talents.
Witness the magic firsthand and embark on a mesmerizing voyage through a world of wonder.
The Magic of Business: Enchanting Your Brand
Infuse your business message with a touch of enchantment through "The Magic of Business." Elevate your brand and captivate your audience like never before. In this extraordinary show, Douglas seamlessly incorporates your brand and business proposition, creating a magical experience that leaves a lasting impression.
Watch as your message comes to life, intertwined with captivating illusions and spellbinding moments.
With Douglas as your guide, your brand will shine in a mesmerizing performance that engages and captivates. Look no further for a unique way to convey your business message. Embrace "The Magic of Business" and let the enchantment unfold, leaving your audience awestruck and your brand trulyunforgettable.
Get in Touch
Douglas McCay is available for private and public events. Please call, email, or complete the contact form below for more information.
info@thecharismaticconjuror.com